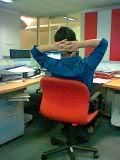 Work..work..god damn work!!! there's a time when i reach my limit..so damn tired..everybody Fucked and everythin Sucks!!..wish I can get some rest or something..take some sleep all day long for a week maybe..hehehe..this one of my favorite pict..


my friend was taking this lame pict of me when I was sleeping at his room..damn..what a crazy position!!! please don't guest where was my right hand goes..hahahaha..Shoot!!wish I can go back to that time!!!...or maybe do some crazy pose like this shit!!hahaha



PUAS??PUUASS?? TAK SOBEK..SOBEK Lambe MUUUU!!!